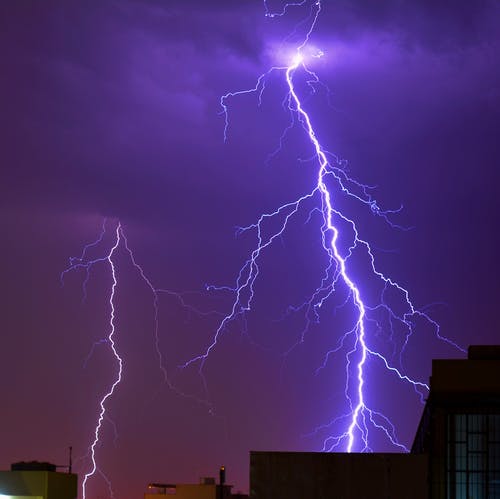 Whether you live in a flood, hurricane, or tornado zone, you want to make sure your home is ready to stand up to whatever mother nature can hurl its way. The best time to storm-proof your home is before severe weather strikes and well in advance of warnings of imminent weather.
Here's what to focus on to keep your home safe and strong:
1) Check your roof, gutters, and downspouts.
Your entire roofing and drainage system's goal is to direct water as far away from your home as possible. Twice a year, check and clean gutters of any debris, and test your downspouts to make sure water is flowing easily and there are no blockages. You can test your downspouts while it's raining, or use a garden hose to make sure water is coming out as it should. Inspect your roof for any weak spots. Even with an untrained eye, you'll be able to easily spot obvious worn out areas like missing shingles, popped nails, or any warping. If you spot any obvious concerns, contact a roofing professional for repairs before any storms hit.
2) Secure outdoor objects.
Depending on the wind strength, any object you have outside your home could become extremely dangerous as flying debris. Bring lawn furniture and umbrellas inside, and secure heavier items like grills if you're at risk of high winds.
3) Protect windows.
Purchasing exterior storm shutters can add an extra layer of protection between your windows and the elements. If your home is older, and your windows are made of single-pane glass, you might want to consider upgrading to newer windows that typically have more durable features and double pane glass.
4) Trim trees.
Wind storms and even ice and snow can bring down dead trees and limbs. In the fall, trim dead trees and any branches that lurch over your home. Some trees don't hold up well in high wind situations, so check your local landscaping company which ones will weather the storm best.
5) Protect from flooding.
Inspect your basement for any signs of water damage and cracks where water could easily seep in. If you notice any cracks, look for a local weather sealer in your area. If you live in a flood zone, you may want to keep sandbags in storage to block doorways from rising floodwaters.


6) Secure your garage door.
Your garage doors could buckle if exposed to high-wind. Depending on the manufacturer, they might offer a vertical bracing system, or a home improvement specialist might be able to build one for you or recommend a do-it-yourself kit.
7) In case of an emergency.
If you've done everything you can to prepare and end up in an emergency situation from a severe storm, you won't have time to get a contractor out to do repairs. If your roof sustains some wind damage during a storm and you end up with holes or missing shingles, you could repair these spots with a piece of aluminum flashing and some rubber cement. This is a temporary solution to keep water out of your attic and will still require a professional repair. If you detect rotted or weakened supports, you could reinforce your eaves with galvanized metal hurricane straps. These are quick fixes, but they might make a big difference when it comes to minimizing storm damage. Other items to consider purchasing include a whole home generator, a portable generator, and emergency kits for every family member of your home.
8) Talk to a professional.
Chances are, your home was one of the largest investments you'll ever make. If you have any doubts about your home's physical strength, get in touch with a home improvement professional, especially if you've detected any disconcerting signs of your home's exterior. When you work with a reputable home improvement company, they're trained to spot and repair any areas that could become a concern in stormy weather.
Storm-proofing your home now—before bad weather hits can make all the difference between spending money on reinforcing your home's strength and costly repairs down the road. Understand the risks of your particular area and make sure your home is ready for the next storm that rolls into town.
Have questions about storm-proofing your home? Get in touch!